Welcome to Dimitris Rondiris Digital Archive of the Municipality of Piraeus
The digital archive contains almost all the physical archive in digital format, organized and documented according to the ISAD(G) standard, and catalogued according to the Dublin Core metadata initiative.
Most of the collection has been digitized and documented.
Educational applications of the Dimitris Rondiris Archive
Peiraikon Theatron
Peiraikon Theatro was founded in 1957. Following a short period of appearances in the Municipal Theatre of Piraeus, the company embarked on a series of tours abroad, exclusively with performances of ancient Greek drama: Aeschylus The Libation Bearers, Eumenides and The Persians, Sophocles Electra, Euripides Hippolytus, Medea and Iphigeneia in Aulis.
Until 1968 Peiraikon Theatron had toured in almost all Europe and America, had taken part in important international festivals and had been globally recognized.

More Information
Photograph with the cast of "Electra"
National Theatre of Greece
Dimitris Rondiris served in the National Theatre of Greece as a director, teacher and general director.
His artistic mark was particularly evident on the National's stage from its inauguration, in 1932, until the late 1950's, while his contribution determined the so called "revival" of Ancient Greek Drama and the establishment of the Epidaurus Festival.

More Information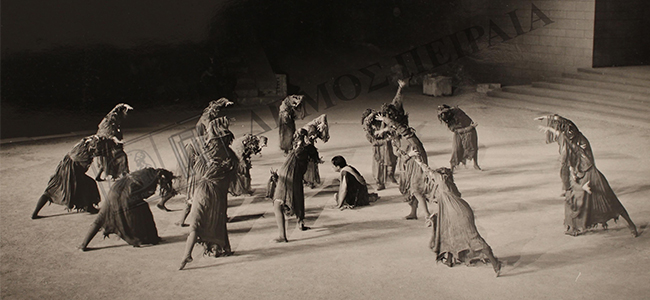 Photograph from the performance "Eumenides"
Elliniki Skini
Elliniki Skini performed during 1950-1951, and it was Dimitris Rondiris' first attempt at founding his own theatre company.
Several well-known leading actors and actresses collaborated, such as Mary and Thodoros Aronis, Rita Myrat, Ares Malliagros, Nikos Hatziskos and others.

More Information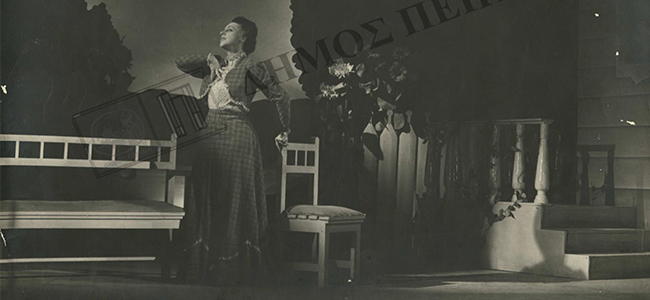 Photograph from the performance "The forest"